Our Story
Nature's Prime Organic Foods, Inc.
PO BOX 68,
Victoria, MN 55386
952-556-0007
Monday-Friday 9am-4pm CST
Questions: orderstatus@npofoods.com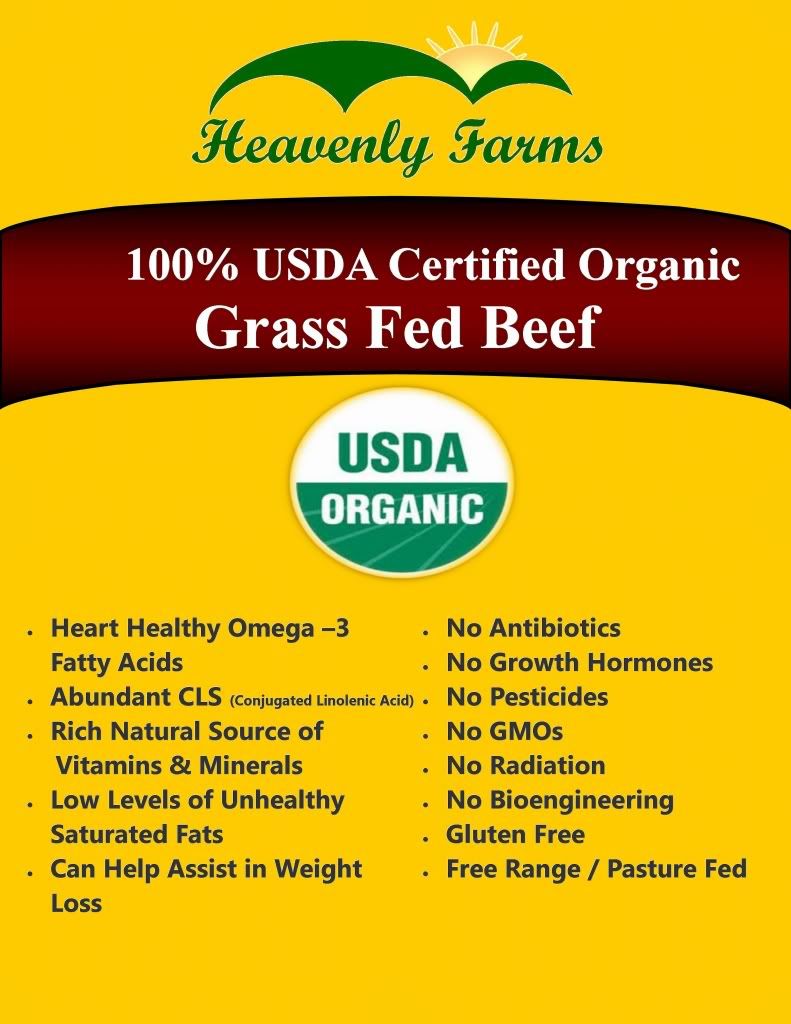 Organic food is raised by farmers who focus on using renewable resources and conservation of soil and water. Nature's Prime Organic meat and poultry comes from animals that are given no antibiotics or growth hormones. Organic food is grown without using most conventional oil based pesticides, fertilizers, sewage sludge, bioengineering, or ionizing radiation.
Certified organic fruits, vegetables, honey, meat, and dairy products are proven to be higher in nutrients than industrial food that is processed in giant factories.
Certified organic foods naturally have:
Delicious and distinctive flavor
Naturally high antioxidant capacity (ORAC)
Heart healthy Omega-3 fatty acids
Abundant in CLA (Conjugated Linoleic Acid), a cancer preventing fatty acid
Rich sources of Vitamin E
Low levels of unhealthy saturated fats
No added dyes or coloring
Heavenly Farms beef is certified organic by MOSA (Midwest Organic Service Association). Both the land and the cattle are certified organic, which means your delicious steaks, roasts, and ground beef are guaranteed to be safe and pure, as well as being nutritious and delicious.
Certified organic products have been grown and processed according to strict organic standards. Farms and processing facilities are inspected and reviewed annually to ensure that organic methods and management techniques are being practiced. Certified organic farmers and processors must keep detailed records of their practices. These records are just as important as the sustainable methods used out in the fields. Since 1999, MOSA has provided high quality, dependable organic certification and verification services to producers and processors throughout the upper Midwest.
Meat from pastured animals are ideal for your health. Compared with commercial products they offer you more "good" fats and fewer "bad" fats. They are also richer in antioxidants.
Lower in fat and calories; There are a number of nutritional differences between the meat of pasture raised versus feedlot raised animals.
To begin with, meat from grass fed cattle, sheep, and bison is lower in total fat. If the meat is very lean it can have one third as much fat as a similar cut from a grain fed animal. Research shows that lean beef actually lowers your "bad" LDL cholesterol levels.
Extra Omega-3's; Meat from grass fed animals has two to four times more omega-3 fatty acids than meat from grain fed animals.
CLA Bonus; Meat and dairy products from grass fed ruminants are the richest known source of a type of good fat called "conjugated linoleic acid" or CLA. When ruminants are raised on fresh pasture alone their products contain three to five times more CLA than products from animals fed conventional diets.
Vitamin E; In addition to being higher in omega-3s and CLA, meat from grass fed animals is also higher in vitamin E.